Welcome to the TsunamiZone in California!

You can register to participate in California's Tsunami Preparedness Week, March 27 – 31, in 2023! Learn how to participate too, from attending a virtual lecture to downloading and viewing tsunami hazard maps near you and even participating in a social media conversation about tsunamis – it's up to you. Don't forget to register your participation here! Remember, we're all in this together.
View list of public events that have been submitted
(Note: this is not the same list as registered activities of individuals and organizations.)
"Know Your Zone" means to find out if you
live, work, or travel in a tsunami hazard zone.
Select an area to view resources for that location.
California Resources
2) CGS Tsunami Inundation Maps
California tsunami inundation maps show where areas on land can become quickly flooded from a tsunami's waves. Tsunami hazard maps are intended to be used to help people plan how they can get from dangerous areas to safe areas by showing where high, safe ground is located. These maps can be used by anyone to plan a safe evacuation route. You can practice walking out of the tsunami zone to be better prepared for a real tsunami. CGS has also developed an easy to use California Tsunami Preparedness Guide for the public. You can practice walking out of the tsunami zone to be better prepared for a real tsunami. For more information about tsunamis, including a website about the impacts of 2011 Great East Japan Earthquake and Tsunami in Japan and California, please visit the CGS Tsunami Website at tsunami.ca.gov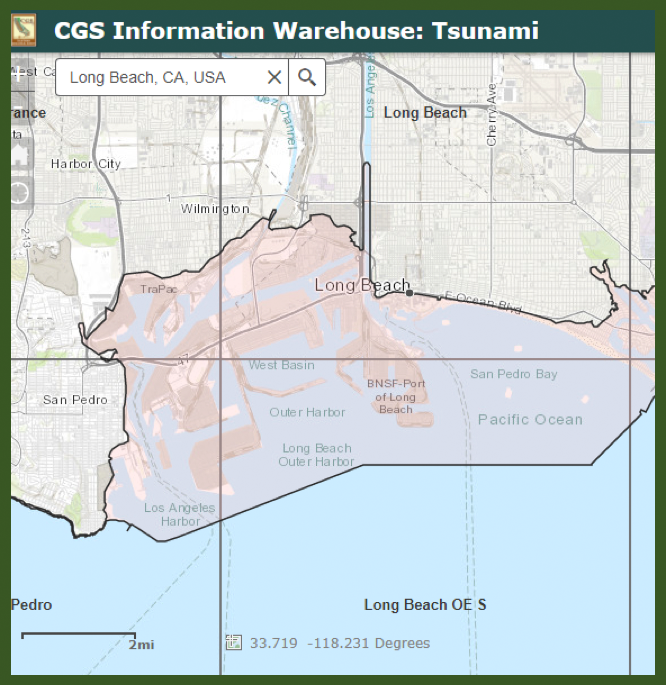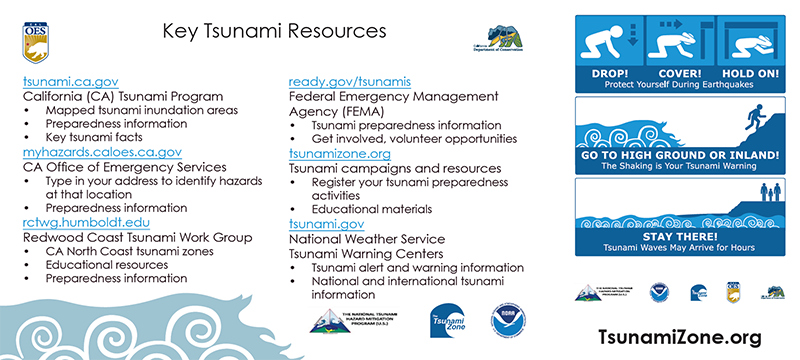 Special webinar for California's 2022 Tsunami Preparedness Week
Tsunamis: Information, Inspiration, and Preparedness
Presented by Yvette LaDuke (Cal OES) and Nick Graehl (CGS)
Hosted by ECA Central Coast
How to Plan a Tsunami Walk!
Maritime Tsunami Preparedness
4) Educational Videos
Tsunamis: Know What to Do!
Tsunami Preparedness in Southern California
Tsunami Preparedness in Central California
Tsunami Preparedness in Northern California
Levels of Tsunami Alerts & Warnings
(from the City of Los Angeles)
A list of upcoming TsunamiZone events are available on the calendar.
Event organizers: If your activity is open to the public or a potential news venue, please complete our Event Form.
Media Contact:
Brad Alexander, Public Information and Media Relations
California Governor's Office of
Emergency Services
Phone: (916) 845-8455